Fall arrives and my desire for cooking warm seasonal meals goes into high gear. I love cooking for my family and friends. Harvest dinner parties in cooler weather with seasonal food. This Pear Pumpkin Soup will be starting many parties this fall.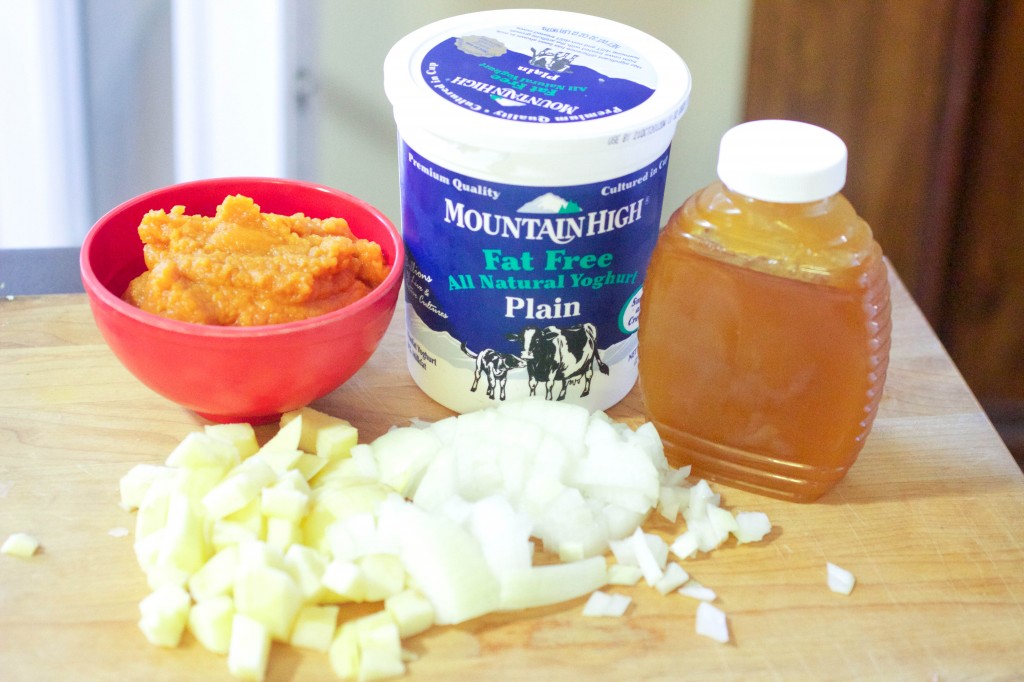 I am partnering with Mountain High Yoghurt to create a series of seasonal recipes and this Pumpkin Pear Soup is a great starter for holiday dinners or served along a salad for a weeknight dinner.
The sweetness of the pear's complement the pumpkin and is a great soup for the kids. This year instead of adding cream I am stirring in Mountain High Plain Yogurt. It gives the soup creaminess without the extra calories.
When hosting dinner parties I like having several dishes that you prepare  ahead of time so that I can enjoy the time with my family and friends without running around the kitchen. This is great because you make it in one pot, a day ahead of time. Heat up just before serving. For Thanksgiving we like to put it in the crock pot with mugs and let people serve themselves.
Here is how to make the Pumpkin Pear Soup.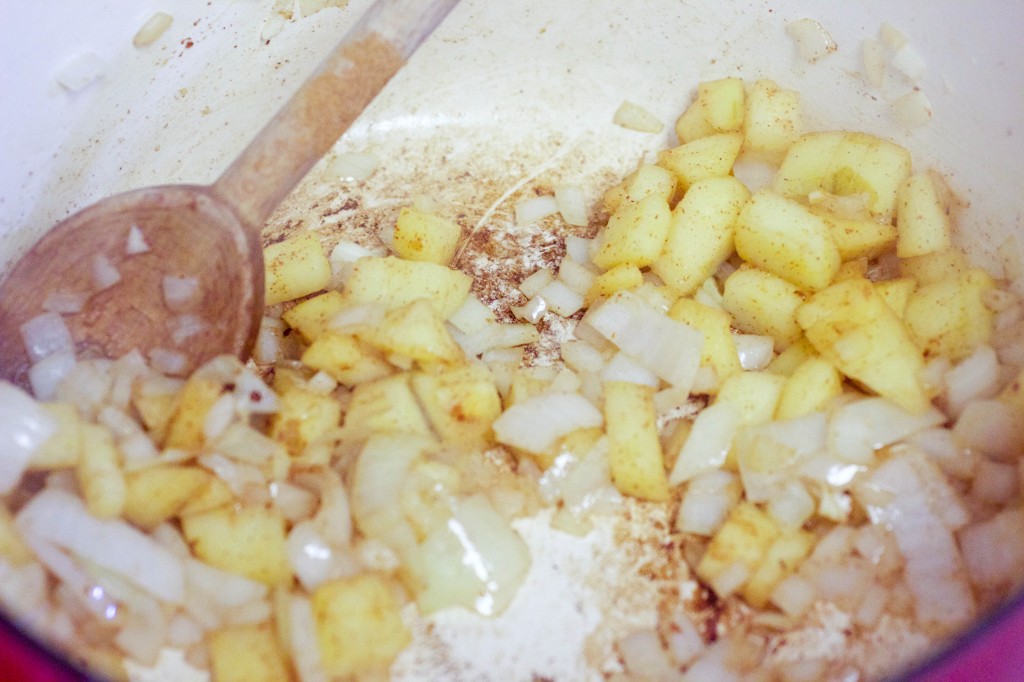 Saute the onions and apples along with the pumpkin pie spice.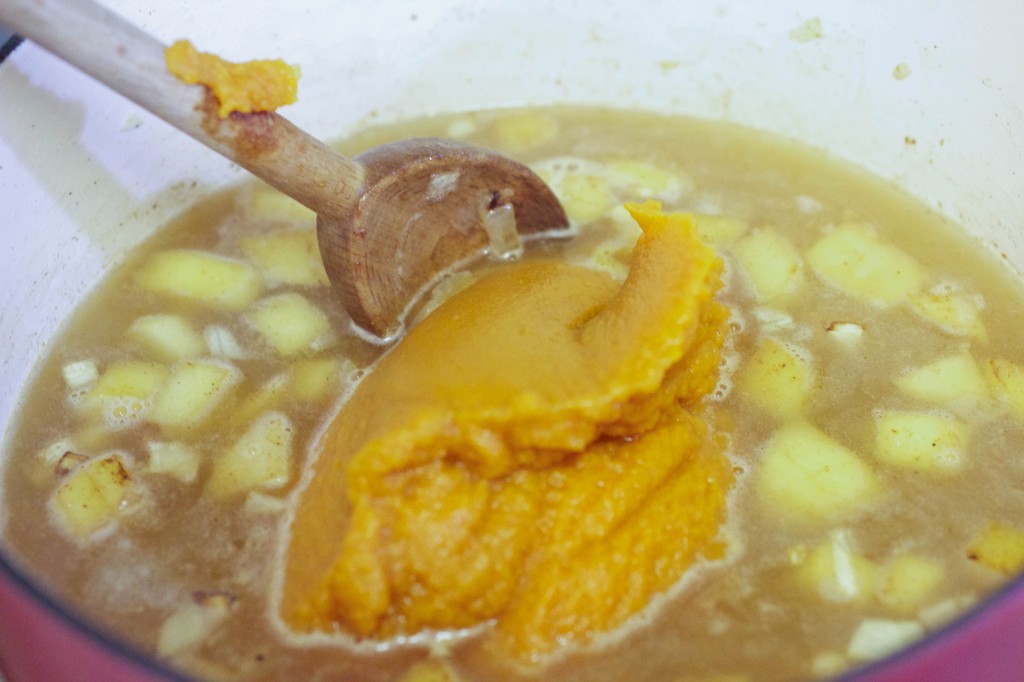 When the mixture is dry add the stock and pumpkin.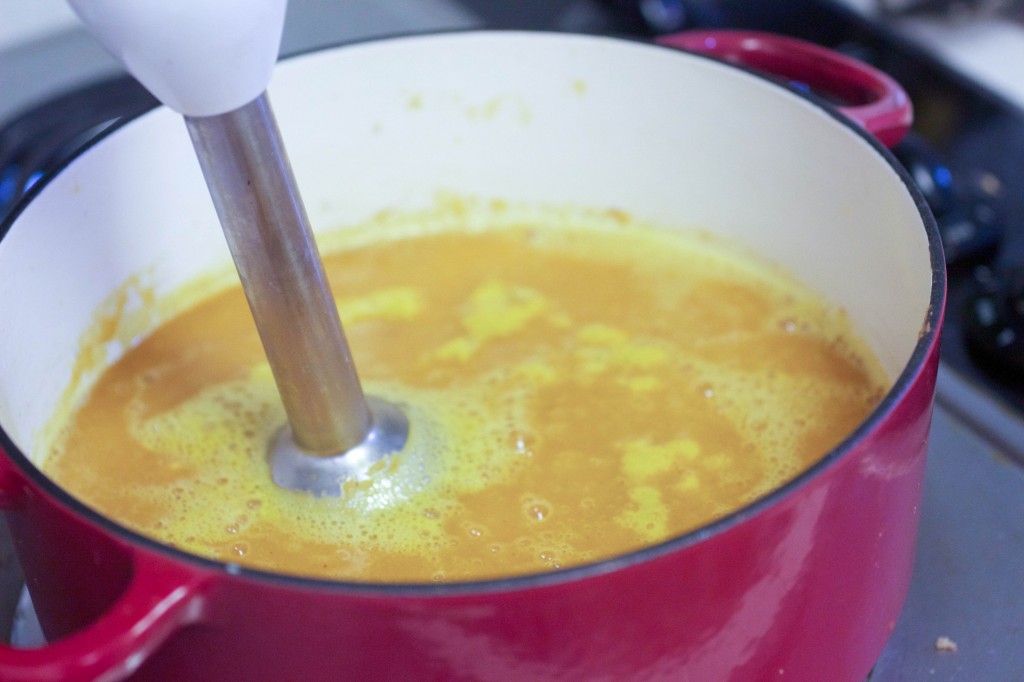 I used an immersion blender to mix, but if you don't have one use a blender or food processor. Bring to a boil and then remove from heat. When cooled mix in the yogurt. Store until ready to serve and heat up slowly over the stove before serving.
I top the soup with a mixture of yogurt and honey, sprinkle a little pumpkin pie spice and sprinkle toasted hazelnuts and dried cranberries. It makes such a pretty start to your meal.
Pumpkin Pear Soup
By Cheri Published: November 7, 2012
Yield:

6 Servings

Prep:

15 mins

Cook:

15 mins

Ready In:

30 mins
The sweetness of the pear compliments the pumpkin in this creamy Pumpkin Pear Soup. Mountain High Yogurt provides the creaminess without the extra calories.
Ingredients
Instructions
In a 4 to 5 quart pan, melt butter and olive oil over high heat. Add onion, pears garlic, pumpkin pie spice, and cayenne and stir frequently until pan is dry and onions are soft.

Add chicken broth, pumpkin and 1 tablespoon honey. Using an immersion blender combine until smooth. Bring to a boil and remove to cool. When cool blend in 1/2 cup yogurt. Warm before serving but do not bring to a boil.

For the topping mix the 1 tablespoons and 1/2 cup yogurt. To serve, place a dollop of the yogurt mixture on top.

Add a little crunch with a topping of dried cranberries and toasted hazelnuts. Drizzle honey over the yogurt cream. Make ahead and warm up in a crockpot the day of serving.

WordPress Recipe Plugin by ReciPress