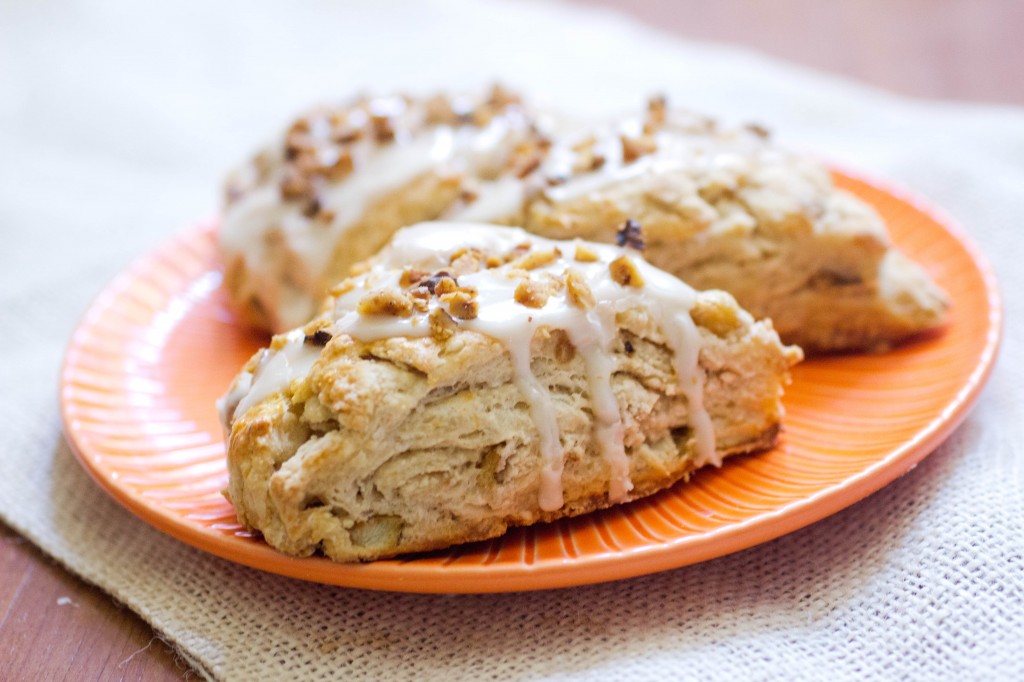 Recently I was invited by my friends at Mountain High Yoghurt®  to create some new recipes using Mountain High Yoghurt®. Since fall is here I thought I would bake a fresh Cinnamon Apple Scone with an Apple Cider Glaze. They turned out big and fluffy and full of chopped apples.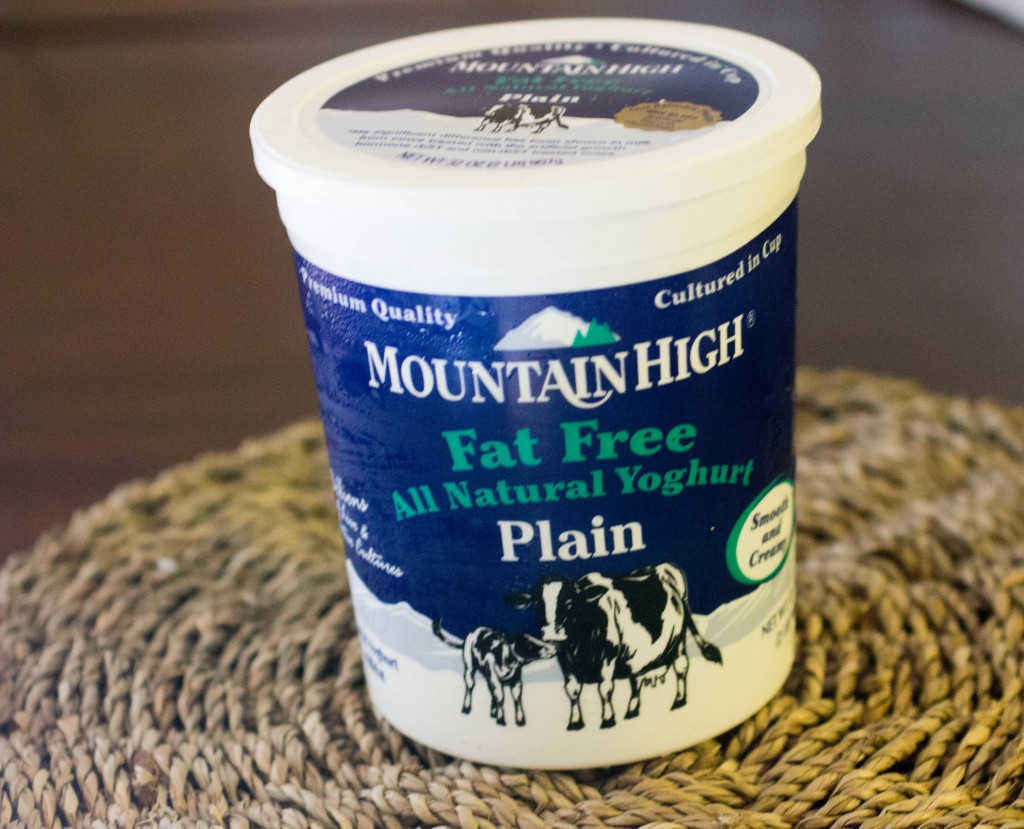 Over the last year I have been incorporating yogurt into many recipes. It is a great lowfat substitute for sour cream or other dairy products.  For the Cinnamon Apple Scones I substituted plain yogurt for buttermilk and then used it in the glaze. Mountain High Yogurt makes the scones nice and moist.
First, gather all ingredients. Once you dice the butter, pop it in the freezer for a few minutes.  This makes for a flaky scone.
Place the butter in a small skillet and add the apples. Coat well and then sprinkle with the sugar and cinnamon.  Saute for a few minutes to soften. Remove from heat and let cool.
In a large bowl or a standing mixer with the paddle attachment combine all the dry ingredients and then add the butter.  I like to use the pastry cutter but you can dig in with your hands and mix together.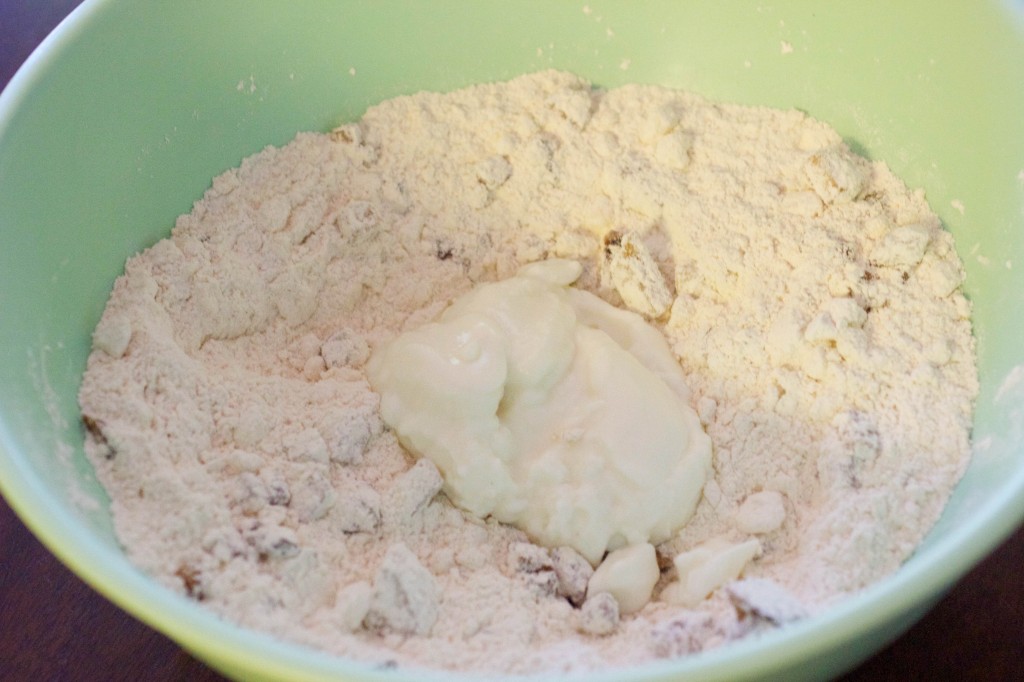 Add the apples and yogurt, stirring just until combined.
Gather the dough into a disk and place on a lightly floured cutting board or sheet of parchment paper.  Knead a few times and form into a disk.
Flatten the disk to about 1″.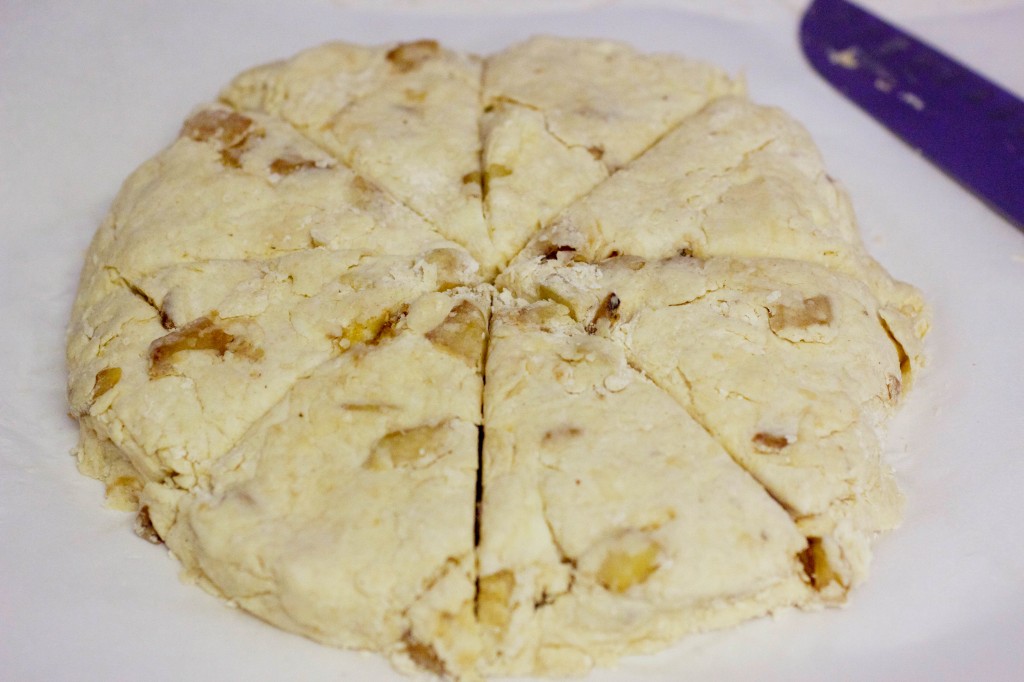 Cut into 8 equal slices or if you want smaller scones use a round cookie cutter to cut out the desired size.
Mix the egg with one tablespoon of yogurt and brush over the tops of the scones. Place in oven and bake 15 to 18 minutes, or until golden brown.
Remove and cool on a rack.
Place the apple cider in a small saucepan over medium heat and bring to a boil. Reduce the cider in half; remove and cool.
In a bowl place the yogurt and powdered sugar.  Stir together and add in the apple cider a tablespoon at a time until the desired consistency.  Drizzle over the scones and sprinkle with the walnuts.
Serve for breakfast or brunch with coffee or tea. To spoil someone you know, box them up, tie with a pretty ribbon and make their morning.
Cinnamon Apple Yogurt Scones with Apple Cider Glaze Recipe
By Cheri Published: October 7, 2012
Yield:

8 scones (8 Servings)

Prep:

20 mins

Cook:

18 mins

Ready In:

38 mins
Warm up your fall mornings with these moist scones full of cinnamon apples.
Ingredients
Instructions
Heat oven to 400°F.

Melt butter in a medium pan over medium high heat. Add apples and stir to coat. Sprinkle with sugar and cinnamon. Shake gently to combine and cook for 3-4 minutes. Remove from heat.

Combine flour, baking powder, baking soda, salt, sugar, cinnamon and nutmeg together in a large bowl. Place diced butter in the center; with a pastry cutter or in a standing mixer with a paddle attachment, combine butter into flour mixture. Stir in yogurt and apples just until combined. Form a disk with the dough.

Turn dough on to a lightly floured cutting board or parchment paper and knead gently. Form into a disk and flatten to 1"inch high. With a knife cut into eight equal slices. Place on a cookie sheet and brush with egg wash. Bake for 15 to 18 minutes, or until turning golden brown.

Place apple cider in a saucepan over medium heat and reduce in half. Remove and cool.

Mix yogurt, cider and powdered sugar together until smooth to form glaze. Spoon over cooled scones and sprinkle with walnuts.

Place diced butter in freezer for 15 minutes for flakier scones. When making glaze, thicken if needed by adding additional powdered sugar 1/4 cup at a time.

WordPress Recipe Plugin by ReciPress